Deccan Chargers jerseys to be Sponsored by Puma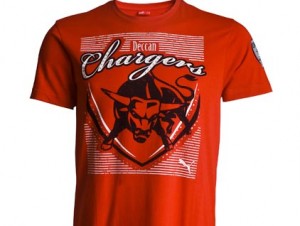 Global sportlifestyle company PUMA Monday announced its continued association with the Deccan Chargers as the official sponsor of their home and away uniforms for Indian Premier League Season 3 / IPL 2010.
"Having the right technical gear and footwear during a 240-minute game is crucial to any cricket player," said Rajiv Mehta, MD PUMA India. "PUMA has made apparel and footwear taking into account the needs of players and they have truly proven themselves once again with the new uniforms."
Made with 100% polyester, the PUMA Deccan Chargers kits contain contract mesh inserts for comfort and breathability.
In keeping with PUMA's vision SAFE to reduce its carbon footprint and contribute towards planet sustainability, all equipment manufactured by PUMA is PVC free thus providing the Deccan Chargers an avenue to go green, which is an area the IPL has been focusing on, said an official release.
Source : IndiaBlooms